(Don't forget!
Wolves of Mercy Falls GIVEAWAY
- Deadline
Aug 17
! ♥)
A couple weeks ago, I came across this amazing blog post by
Zoë Marriott
called
You Can Stuff Your Mary-Sue Where the Sun Don't Shine
.
Judging by the title, you could make educated guesses about the blog post's topic. Personally, I think it's FAB.
In case you're new to the term, here is the definition:
"A Mary Sue (sometimes just Sue), in literary criticism and particularly in fanfiction, is a fictional character with overly idealized and hackneyed mannerisms, lacking noteworthy flaws, and primarily functioning as a wish-fulfillment fantasy for the author or reader. It is generally accepted as a character whose positive aspects overwhelm their other traits until they become one-dimensional."
Zoë clarifies this even further:
So this is what a Mary-Sue is:

1) A character who is based, at least partly, on the author
2) A character whom has no significant flaws (except possibly ones the other characters find cute)
3) A character to whom everyone within the story reacts as if they were beautiful and wonderful except characters who are clearly evil and/or motivated by jealousy
4) A character with whom, during the course of the story, every available character of the opposite (and occasionally the same) sex will fall in love given any contact whatsoever
5) A character who undergoes no significant growth, change or development throughout the story
In my many years in fandom, I've come across this term
numerous
times, both applied accurately and not. And that inaccuracy is the crux of Zoë's post.
Basically, book reviewers slap the term "Mary Sue" on female characters for a large number of often CONTRADICTORY reasons, and Zoë came to this rather unfortunate conclusion:
What many (though not all!) of the people merrily throwing this phrase around actually mean when they say 'Mary-Sue' is: 'Female character I don't like'.

That's it. That's all.

So why don't they just say 'I didn't like the female character' and explain why?
(...)
Maybe it's because the reviewers in question, the reviewers who keep saying 'Mary-Sue' as if it was all that needed to be said, don't want to have to explain the reasons why a particular character didn't work for them. Maybe it's because their reasons for finding these female characters just too obnoxious, unrealistic, stupid, passive, badass or talented are just as contradictory and badly defined as the term itself. Maybe it's because the reason they don't like the female characters isn't that they're just too...anything. Except just too...female.
This was my favorite part of the post, but you should definitely read the whole thing if you have time! :D
Instead of slapping 'Mary-Sue' in your review and leaving it at that, make a list of four or five traits or decisions or actions that you think were bad, or unrealistic, or obnoxious, about the character. Perhaps you should discuss those points, and why they bothered you, in the review instead.

But before you do, take a moment to imagine that the character you are thinking about was a boy or a man. And don't say 'Well, that's different' or 'But I just can't see a girl behaving this way' or 'It's not about their gender!' or any other excuse. Look at your list again, really look at it. See if, suddenly, magically, all those traits, decisions or actions don't seem bad, unrealistic or obnoxious anymore but like perfectly normal, perfectly acceptable traits or decisions or actions...for a boy.
(...)
If you can change enough to realise how damaging and unfair the term Mary-Sue is when used indiscriminately and incorrectly to denigrate female characters, you might start to notice some of the damaging and unfair assumptions which are generally made about ACTUAL FEMALES in this messed up sexist world of ours. You might change enough to start dealing with that and make this world a better place in the process. I believe you can. I believe in you.
Well said, Zoë. Well said. ♥
(And yes, there is a male version called a Gary Stu, but despite spending 99% of my time in slash fandom, I RARELY came across the term applied inaccurately to male characters. I wonder why?)
Random mermaids ftw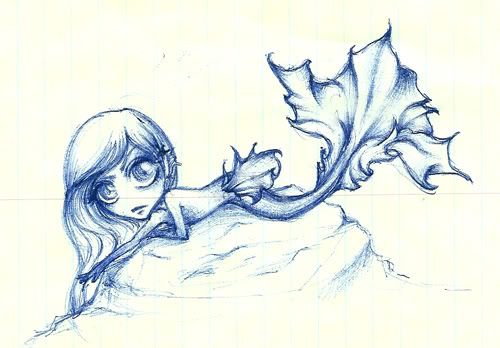 Have a great week, everyone! ♥