This post is basically all about what a giant wuss I am.
But that's no secret. I love Halloween because of the crazy costumes and the decorations and THE CANDY. But even though I was and am a HUGE R.L. Stine fan, and I began writing stories about ghosts and exploding heads when I was in Elementary School, I've never liked SEEING scary things (reading is A-OK though).
Maybe it's something to do with the culture I grew up in--illnesses are attributed to bad spirits which need to be either placated or sent away with complicated ceremonies, ghosts and demons have to be warded off with talismans, funerals are long and drawn-out ceremonies in which a shaman must guide the spirit back to their place of birth so that it's not left to wander. It's a highly superstitious culture, and the ghost stories my mother used to tell me (stories from back in Laos, where apparently bad spirits were really plentiful) sometimes made it difficult to fall asleep at night.
It didn't help that I grew up in a house that was haunted. My mother would see things, and my siblings and I all experienced the usual stuff like moving shadows, footsteps when no one was there, weird noises, etc. I'm still not sure if the house was actually haunted or if it was just really dang creepy. The basement was a place of nightmares--dank, dark, and filled with spiders and centipedes. The stairs were ridiculously steep, and I lost count of how many times someone fell down them. I was terrified of going ANYWHERE in the house once the lights were turned off at night.
We lived there for seven years, but after we moved out, a succession of families moved in and out within the next couple years. One of them was a family my mother knew, and they told her a rather alarming story about locking themselves in one of the bedrooms while someone/thing rattled the doorknob as if trying to get in.
So, possibly as a result of the culture I grew up with and my childhood in a house that STILL provides the setting for all my nightmares TO THIS DAY, I'm never quite sure whether I trust some of the things I've seen because I'm just not sure what's real and what isn't.
Here are a few things that never fail to creep me out:
♠
Child ghosts.
~ My daughter used to get up at night to sleep with me and my husband. When my sister spent the night once, she was awoken by a sound, and when she opened her eyes (she was sleeping on the sofa), she saw my daughter's little figure walking through the living room in the dark. Creepiest thing ever? Possibly :P
~ This one time, I was in my bathroom cleaning up for bed and I heard, quite clearly, a voice whisper, "Mama." Thinking it was my daughter coming over to sleep with us early, I said, "Yes?" When there was no response, I glanced into my bedroom to find it empty. I went to check on her, but she was still asleep in her own bed.
~ My husband was doing something in the front yard around 11 PM for a reason I can't even remember. He had the front door open and through it, he saw what he thought was our daughter standing in front of the dog kennel, talking to the dog. He waved at her. When he came back inside only a minute later and found she wasn't in our bed with me, he went to check on her to find she was still fast asleep curled underneath her blankets.
♠
Dolls, especially old ones.
~ When I was a kid, someone thought it'd be a brilliant idea to manufacture dolls with eyes that followed you. And my mom thought it'd be a brilliant idea to get this doll for me and my sisters. We threw the doll in the porch, and I was forever scared of going into the porch after that.
♠
Reflections in mirrors that aren't really there.
~ Can't even count how many times my eyes have played tricks on me, and I've caught something in the mirror that wasn't there when I turned around. Creepy as heck. Also, driving at night on a dark road (or passing a cemetery), don't tell me you've never been just a tiny bit scared of looking into your rearviw mirror and seeing someone in your backseat.
♠
Anyone/thing that wants to kill me.
Well, it's true >_>; Crazy people. Ghosts. Certain wild animals. This is why I can't watch horror films. EVERYTHING ALWAYS WANTS TO KILL EVERYONE. Although like I said, I think it's just the visual media, b/c I love reading horror stories. Go figure.
Okay, now your turn. What scares you? Any creepy stories to share?
Signing off with a pic of my husband's Halloween costume. He's quite proud.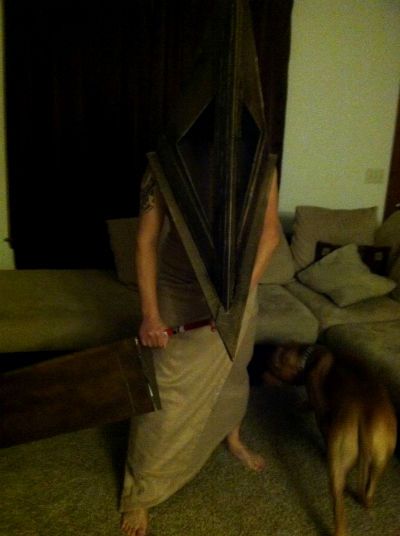 Happy Halloween! ♥